So you want to resize Launchpad on macOS? When Apple introduced the launchpad a couple of OSX versions back the screen resolutions used to be a whole lot smaller. Remember when HD still was a thing? 😃 Anyways, launchpad icons just look awfully huge on a 2K or 4K display but macOS doesn't provide any settings to adjust their size to show more of them on a single page on Launchpad. Luckily, yours truly came up with a solution! 🤓
Fix the problem with Launchpad Resizer
1) Download and run (you don't really have to install it) MKH soft Launchpad Resizer. If you have problems installing it, take a look at the tutorial to install applications outside of the Apple App Store.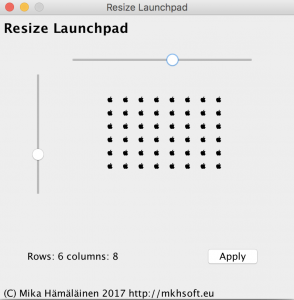 2) Adjust the number of rows and columns you want to be visible on the Launchpad by using the sliders. The number of Apple logos gives you an impression of how many icons will be shown.
I know that this app is huge in megabytes in comparison to what it actually does. This is due to the fact that I made it in Java, and apparently the JRE takes a lot of space… Note to myself: don't use Java. 😅
That's about it! 😊 If you are interested, you can take a look at my other apps on MKH soft website.