Some applications are annoying because they configure themselves to run on boot each and every time you start your Mac. This slows down your computer and also has an impact on the battery life. But never fear, the solution is here! 😃
Usually, you are instructed to take a look at what is under System settings -> Users and groups -> Login items. This however, is only part of the story, for there are more programs that will run on startup. These can be taken care of by using an application coded by yours truly. 😊
Delete starting programs with Start-up editor
Download and install MKH soft Start-up editor. If you have problems installing it, take a look at the tutorial to install applications outside of the Apple App Store.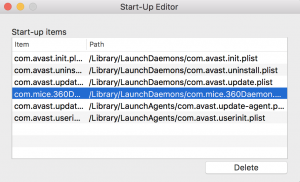 Pick the items from the list you want to delete and click on the delete button. You will be asked for admin password, because the startup items are write-protected from ordinary users.
Note: The app doesn't take any backups, so be sure you know what you are doing. Then again, the operating system doesn't have any startup items of its own, so if you remove an important item, the chances are that you can fix the problem just by reinstalling the affected program.
There you have it. ☺️👌 For more Mac programs I have made, take a look at MKH soft website.