Your tracking period is coming to an end and you are just a couple of thousand points short for the next tier. It is time to find the cheapest way to get those extra miles. Trust me, we have all been there. Finding flights isn't that easy when you try to optimize price and frequent flyer points. Unless if you use Fly for Points search to do the job. Let's find out how it works. 😄
Plan where to go
Because you earn points or miles based on how far you fly, it is important to look into far away destinations when you are on a mileage run. Another thing to take into consideration is to search exclusively for business and first class flights because they tend to give from double to triple the points.
Another question is where to fly from. For example, Budapest was last year the cheapest city in Europe to fly to Tokyo from in Business class. LOT Polish offered flights from Budapest via Warsaw to Tokyo for half the price of Warsaw-Tokyo filights. Not only would you save money, you would also earn extra points for the Budapest-Warsaw leg. British Airways is known to have cheap flights to Johannesburg in Business class from different cities in Europe. As Johannesburg is rather far away, you will be guaranteed to earn many miles making your mileage run more effective.
Finding the flights that give the most frequent flyer points
Fly for Points is the best search engine for mileage runs. It lets you feed in where you want to go to, when and your frequent flyer program, and voilà, you can sort the possible flights based on how many status points or miles you end up earning.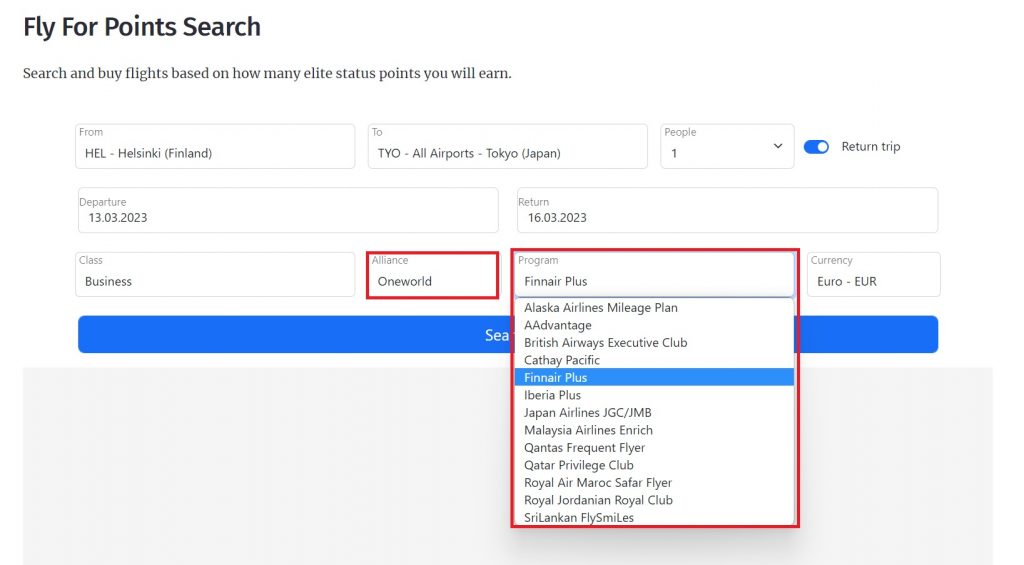 The first thing you need to do is to decide where you would like to go and when. After that you should pick Business or First class from the class selector for a maximized mileage. Don't forget to pick your alliance and mileage program. And don't worry, the search shows exclusively flights from your alliance ensuring that every single flight earns you some sweet frequent flyer points.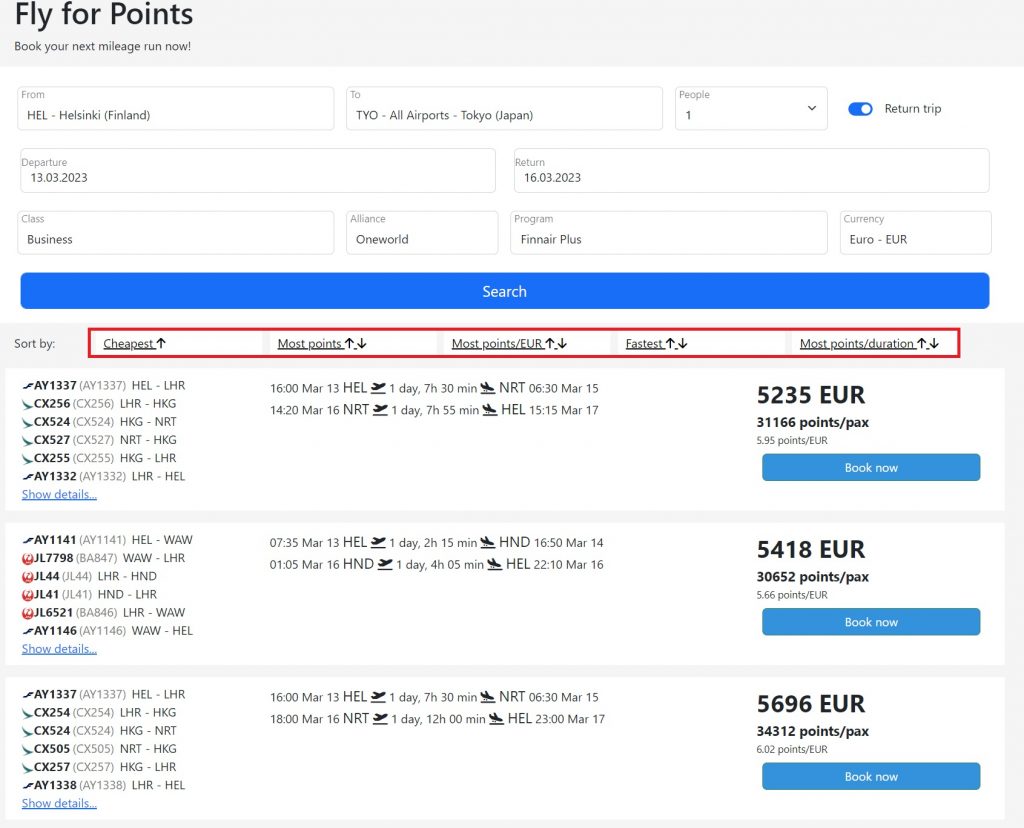 You can sort the flights based on price or points. In addition, you can sort the flights based on how many points per euro (or dollar) you would get, or what is the fastest route that gives the most points. In the example search, the flights giving the most points per euro, give 47,472 points (half of what is needed for Finnair Gold!) for 6,927 euros, while the route giving the most points (49,248) is 8,597 euros. The fastest flight gives 40,000 points for 8,265 euros and so on. 🤓
Conclusion
Fly for Points is the best pal for anyone planning for a mileage run because it lets you compare your options extremely easily. The actual flights are sold by Kiwi, which is a trustworthy seller and it has been around for way longer than Fly for Points. This platform has saved me quite a bit of trouble when bumping my Finnair and Aegean statuses. 😁