I decided to go for a trip to Dubai, but my travel plans were almost stopped by the expensive prices private health care services charge for their corona tests. I am not going to pay the price of my flights just to get my nose poked! 😣 Luckily, in Helsinki and Uusimaa region, it is possible to get a coronavirus test (COVID-19 PCR test) for absolutely free of charge! On top of that, you will get your negative coronavirus test certificate that is completely accepted for travelling abroad. ☺️
Booking your free corona test
The only way to book your free coronavirus test from the public healthcare is to fill in some details in the Omaolo service. Now the trick here is that you can only get tested if the Omaolo service decides so. It is time to bend the truth a little bit in our favor. 🙃 You have to tell you have symptoms even if you didn't. If you list too many symptoms, the system will tell you to call 112, if you don't list enough symptoms, the system will tell you to stay home. If, however, you put just the right amount of symptoms in, you will get a magic link to book your free corona test. You can leave all the text fields blank.
It is maybe not the nicest thing that you have to lie about your symptoms, but hey, they are a tax paid service that are paid from our pockets, so we had better have the right to use them. 😃 Once I logged in to the system, they had plenty of free appointments available, every day form morning till evening they had free time slots, even for me to go there immediately. I booked mine at 8:45 in the morning because it can take up to 24 hours for them to send me the results. You have to be careful about the time, though, for example, Dubai required the test to be done at most 72 hours before me taking the flight to Dubai. I had a transit in Doha, for flying Qatar airways (which I totally recommend over Finnair), which meant that it was 72 hours from my flight leaving Doha, not 72 hours from my flight leaving Helsinki for Doha.
Getting tested for free
When I went to Kruunuhaka to get myself tested, the whole process went smoothly and they did not ask me about anything. I was told to go to the waiting room, and I was immediately taken to the testing station, I was told to blow my nose and hold a sheet of paper in front of my mouth breathing through it while they were taking the swab test. I am not going to lie… The test felt extremely bad! First, the nurse, put the swab stick deep down into my nose until it hit the very back, after which she rotated the swab 5 painfully long times. 🤕 For the sake of comparison, I was tested again in Dubai, and there the test took less than a second and the swab was not put deep at all. That did not hurt one bit! ☺️
I was told that the test results will be sent to me by text message within 24 hours. I got my coronavirus test taken at 8:45 and sure enough, I got a text at 22:00 the same day with my negative corona test results. Wohoo, I finally got to travel! 🥳 This had been a long time coming.
Printing your free corona test certificate
After I got the text message, I logged in to the Koronatietoni service with my Finnish bank ID. The negative test certificate was there waiting for me, all I needed to do was to fill in my passport number and my home address. After this, I could save the certificate as a PDF. The certificate is in English and once printed it was valid for both Qatar airways and Turkish airlines, which a friend of mine used to fly to Dubai a couple of weeks before me.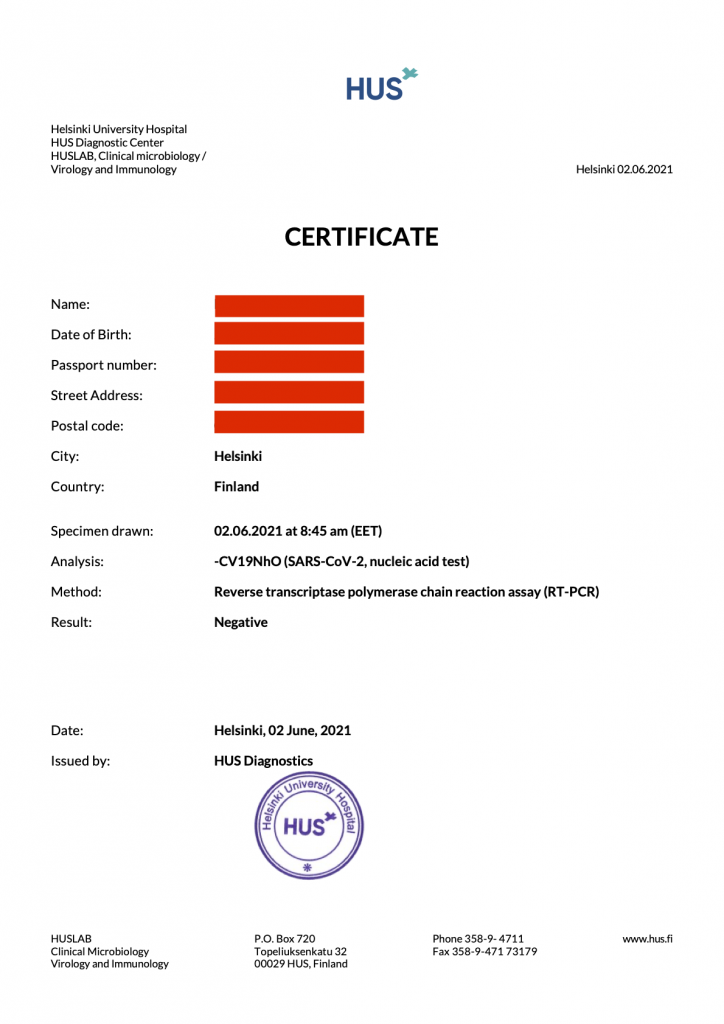 The free corona test certificate that works for travelling looks like the image above. It even has a legalizing stamp and everything. ☺️ I myself don't have a printer at home, so I printed mine in one of the city libraries. Printing a page costs 0.4€ which is way less than paying any private company for the test certificate. Now that you can travel again, you might be interested in learning about lounges or business class upgrades.